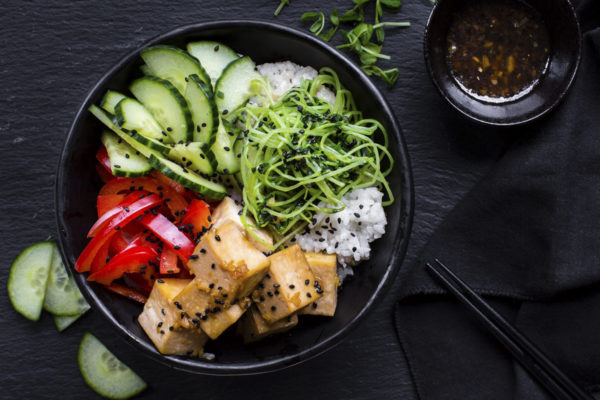 Whoa! This is one product review I'd like to volunteer to do over and over. Sun Basket was that good! That it included food delivered to my door…score!
Eating healthy is an integral part of a comprehensive fitness plan, yet it is often the most challenging – especially when the week gets busy. The holidays were chaotic for us this year. I had just finished school when they hit and had boxes of my belongings to unpack. Then it was full-swing in the tra-la–la-la-la of the season. No sooner had Christmas passed, and we were off to Florida for my daughter's wedding. Then it was Outdoor Retailer week. Eating healthy was a struggle!
My fridge was nearly empty when a big heavy box arrived on my stoop. It was from Sun Basket. I had agreed to review their service, but on that day, their box looked like a nutritional lifeline.
Sun Basket is a meal delivery service providing farm-fresh, sustainably sourced, meals crafted via a weekly delivery service. They also offer one-off gift options. Sun Basket's chef, Justine Kelly, is the former head chef of the James Beard award–winning The Slanted Door restaurant. She works closely with local farmers to procure seasonal ingredients for each meal. A nutritionist also reviews each dish to ensure it is a healthy option.
I lugged the box into the kitchen a dug into its contents. On top were recipes with mouth-watering pictures of the finished dish. It looked yummy, but would it produce? Next I pulled out paper bags stuffed with all of the ingredients for each dish, plus there were a few items packed closer to the dry ice packs.
I decided to cook up the Provincial Winter Vegetable Soup with Pistou first [click the link for the recipe and a pretty picture]. Besides the freshness of the vegetables, the thing that struck me was the quantity of food. Sun Basket sent us the two serving plan, but there was enough food to feed three of us plus leftovers. Most importantly, it was delicious!
Our box contained three meals and it made sense to space them out over the week to give us a break when we felt overwhelmed. Okay, I'll confess that there was one night when we couldn't even bring ourselves to cook a simple Sun Basket meal and simply ate an apple and went to bed. But other than that, they offered us a break. It was also fun to cook inspiring new dishes. I write a lot of recipes of my own, but that's not that same as executing a renowned chef's vision. It left me with some fun new ideas to cook on my own.
The insulated box and ice packs were returned to Sun Basket using a pre-paid label and pick-up scheduling that took less than five minutes. Then I left it on the porch where USPS picked it up.

My Impression of Sun Basket
The Food
Each of the three meals were healthy and delicious with enough food for the two of us plus Steve's 12-year-old daughter. We even had leftovers of the soup. The recipes were creative and each would be a hit in an upscale restaurant. I learned from each one and will incorporate the ideas into future meals of my own. There are over 350 recipes available for free on the Sun Basket site, even if you don't purchase the meal kits. I highly recommend checking them out for new ideas. Chef Kelly's recipes rock!
The Convenience
I got to skip the grocery store and had sustainably produced, farm-to-table ingredients delivered to my door in just the right quantities. The ingredients arrived well-packaged and ready to prep. Sauces and seasoning blends arrived already prepared.
To prepare each meal, you grab the bag and recipe card for the meal you wish to cook. The ingredients are mostly whole, which means you'll have some cutting to do. The directions are super simple and even help you pace each task so everything is done at the same time.
Two of the meals were quick to prep, but the third took more time. It called for grating potatoes and I was too lazy to grab the food-processor from the basement. My fault really, but hand grating potatoes is a task I'll skip next time. The resulting fritter was delish though!
The Service
The process was quick and easy from start to finish. When a huge snow storm delayed delivery by a day, I was immediately contacted and assured that Sun Basket would guarantee freshness and to let them know if something needed to be replaced. Thanks to the packaging, everything was fine, and the ingredients for the last meal were still perfect when I cooked it a week later.
The Cost
After preparing the first meal, I wrote my contact and asked, "how do you make money on this?!" The price for such high-quality ingredients, ample portions, packaged well, then return shipping on that packaging, seemed too low. She assured me that the model worked. Wow! The cost per serving is about $11.49. This is more than if I went to the store and bought all of the ingredients, but similar to Thai takeout. Why not just go for takeout? Because these meals are fresh, clean, organic, nutritious, and really good. Basically, they were true to my health values while delivering on taste. That means a lot when life gets crazy.
Final Thoughts
I wish Sun Basket delivered nationwide. Currently they only service CA, WA, CO, UT, OR, AZ, NV, & ID If they add Florida, my daughter and sun-in-law will have one waiting on their stoop! And my parents, and… They would be a fantastic gift!
This is a good value if your goal is to eat healthy clean food instead of questionable takeout when life gets crazy. If your schedule is continually hectic, you could set up a regular service. The meals are constantly changing, so boredom won't be an issue. Check their website for a peak and the upcoming menu.
This is also a fun way to try new dishes. Order online and – poof! – they show up at your door a couple of days later. I'll likely order a box periodically when I see a fun dish on the menu or to ease the week. For more details, visit their website, sunbasket.com.
My Sun Basket Cooking Images
This post is my impression of Sun Basket meals which were sent to me for review with no obligation or further compensation. I had a lot of fun checking out their service and quality of the meals especially because they arrive when I was crazy busy and needed good food fast. Like any review on this site, I only endorse products I believe are worthy.