Enjoy this appetizing guest post highlighting the best restaurants and bars in Shoreditch, London.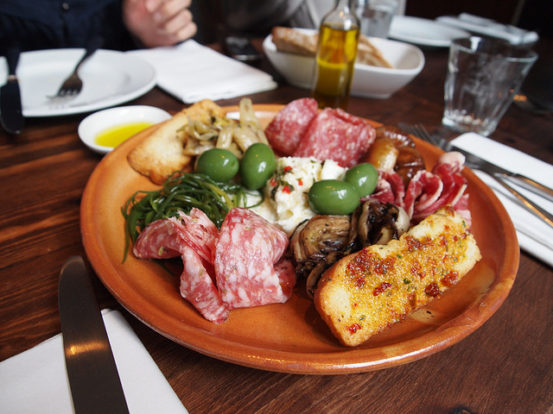 When you think of a night out in London, you may think of Leicester Square, Covent Garden or the West End. Perhaps Camden comes to mind, or the alternative streets of Tottenham Court Road? It's surprising how fabulous the bars and restaurants are if you move slightly out of the city towards Shoreditch. A popular haunt for businesspeople, locals and visitors, Shoreditch would make an ideal base for a night in the Big Smoke.
Minutes away from the vibrant nightlife of Shoreditch, you can find reasonably priced accommodation that will keep your purse happy. From your hotel base, you have the bars and restaurants of Shoreditch in your sights and will have more to contribute towards what could be a fabulous evening away from home.
Pubs & Bars
The Wenlock Arms on Wenlock Road is a single room joint with a whole host of real ales ready to be pulled. With its appeal to older locals and students alike, anyone is welcome in this chilled out traditional pub.
The revamped Horse and Groom is a popular pub haunt during the day and as the sun sets, when it is transformed into a two floor pub-club. With its late license and well known DJ names gracing the decks, it's well worth a visit.
Gastropub, the Water Poet, nestled away off Bishopsgate, offers pub, restaurant, beer garden and parlor all under one roof. Head over on a Sunday for the reputable roast dinner.
A perfect hub for after work drinks, The Fox is a magnet for businesspeople needing post-job refreshment. It also dishes up some great hearty bar dishes and offers a great selection of drinks on draft and from the fridge.
Restaurants
Hawksmoor on the edge of Shoreditch is a perfect haven for anyone with a hankering for a quality steak. Since its opening in 2006, its reputation as an excellent steakhouse has grown and grown. With locally sourced meat, excellent staff and cracking desserts, you're looking at spending around £20-25 for a main course, but it's well worth it.
The modern Hoxton Apprentice offers European cuisine in a contemporary fashion. With a terrace overlooking Hoxton Square, the establishment teaches catering skills to the long-term unemployed and, in turn, gives back to society.
Fifteen, from culinary whizz Jamie Oliver, offers both a trattoria and ground floor restaurant, with the same menu being available throughout. Dine downstairs and you can see Oliver's apprentices on his highly acclaimed program, hard at work. Definitely sample the impressive antipasti plank for plenty of flavors all on one board.
The self-acclaimed "trendiest restaurant" Great Eastern Dining Room, with its stylish and chic atmosphere, provides beautiful south Asian dishes, including tempura, sushi, dim sum and curries.
Whether this selection of food and drink establishments takes your fancy or you prefer to explore the sights to find something more appealing to your personal tastes, the area in and around Shoreditch is a hub for people from all walks of life. Book your evening today and enjoy a night away from the grind of work in our diverse capital.