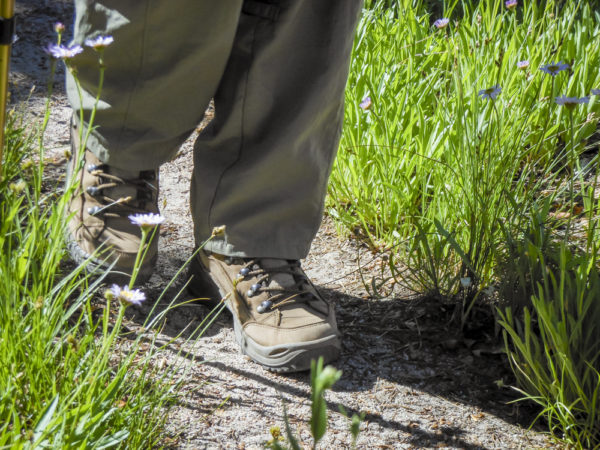 When backpacking in alpine environments, or anywhere for that matter, I'm a stickler for following Leave No Trace principles. Let me rephrase that, I'm a pain in the bottom about it. Yet until recently, I didn't realize I was inadvertently violating one of those principles – Leave What You Find.
I'll explain. There is a statement under that subhead that states, "Avoid introducing or transporting non-native species." So I thought this meant stuff I could see and perhaps even intended to haul off. I didn't think of the dirt on my feet or caked to the chassis of my car.
I also didn't think of the stacks of wood my father hoards in Florida, and then loads it into the camper to burn in Georgia.
I had no idea that we could be transporting nasty invasive species from place to place. I never imagined that I could be defined as a vector.
How did I realize my horrible oversight? This blog post. The USDA asked me to write a public service post about "Hungry Pests" and how outdoor enthusiasts can help stop the spread of the devastating critters. When I read the assignment, I quickly realized I was the intended audience.
Clueless.
I was clueless.
I've done some research since then and will incorporate new practices into my outdoor travel planning.
Here are six recommendations from the USDA:
Before leaving for and returning from a camping trip, remove any mud and dirt, which may carry insects and their eggs, from cars and recreational vehicles (RVs) to help prevent transporting invasive hungry pests to new areas. Be especially attentive to clean debris from tires and wheel wells. Also, clean tires on mountain or other bikes you may use.
Likewise, clean mud and dirt from shoes, boots, backpacks and other gear before leaving your local area to hike or enjoy time in nature.
Although it may be tempting, don't bring back flowers, plants, leaves or other natural souvenirs discovered in the wild, as they could have invasive pests attached to them. Leave nature in nature.
Planning to enjoy an outdoor campfire? Don't move firewood. This is the easiest way to avoid spreading invasive species, such as the Asian longhorned beetle and emerald ash borer, which can be hidden inside.
Buy firewood where you plan to burn it. Only use wood that already has been responsibly harvested near the place you plan to burn it. Or buy and use wood that has been heat-treated or certified as safe to use. Many national and regional parks no longer allow people to bring in firewood from the outside. By doing so, not only could you face a hefty fine, but you could bring in pests that destroy the beautiful wild spaces you love.
For those living in the northeast quarter of our country, look for insect egg masses attached to outdoor items, such as furniture you bring on your camping trip. Even items stored in your garage could hide them. They could be the destructive gypsy moth, which eats more than 300 species of trees and shrubs. Carefully remove and immerse gypsy moth egg masses in soapy water. And report findings outside of quarantined areas to federal or state agricultural officials, since early detection is key to controlling these pests.
The suggestions above are excellent, but I found that the HungryPests.com site helped me understand the issue better. On this site you can see which state are currently dealing with invasive species and which are at risk. It also explains the various ways pests are transferred from place to place. I suggest checking it out if only for the cool graphics and maps.
Seriously, you have to see the picture of the giant african snail to believe it! While impressive, other pests, such as the Asian gypsy moth are capable of wiping out forests. The stakes are high, but you can do your part with only minimal effort.
Take a few moments to educate yourself now, while it's on your mind, and then review these tips before your next adventure. Now, you can take pride in knowing you really are leaving no trace.
Hike and be safe,
Erika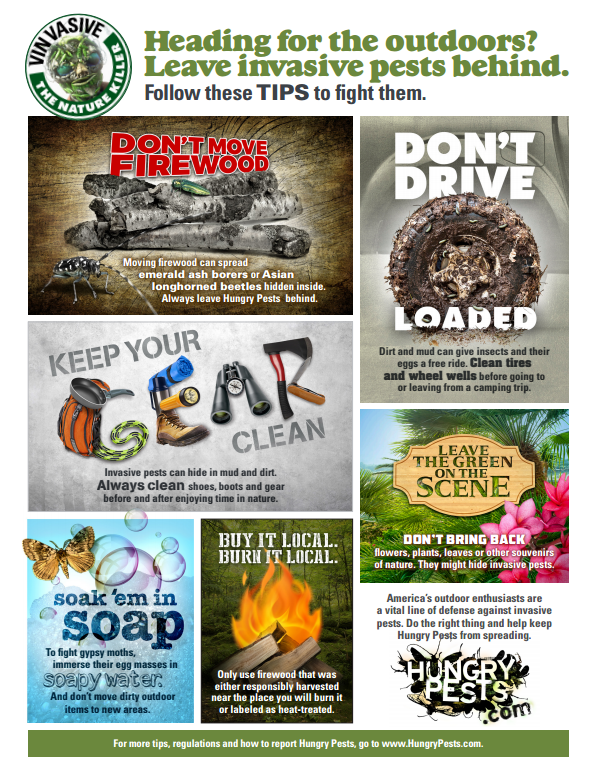 Boot image by Laura Manina (my sister!).
This is a sponsored conversation written by me on behalf of United States Department of Agriculture's – Animal and Plant Health Inspection Service. The opinions and text are all mine.