In this post I share my top Utah hiking trail posts organized by area, season, difficulty and even one for dogs who hike. Most I published on Ski Utah's blog under my name or as the "Yeti," their ultra cool mascot.
The lists are simple collections of the most popular hikes or others I've discovered are worth lacing up your boots and strapping on your pack. My goal is to make finding the right trail easy, so I've listed dozens of carefully picked hikes instead of hundreds. I don't know about you, but I get overwhelmed when I'm offered hundreds of options! Additionally, several of these lists are central to ski areas, which are comfortable in summer thanks to high elevation.
I'll continually add to the list, so bookmark this page!
8 Spring Hikes in Salt Lake City, Ogden, and Park City
We call spring the shoulder season. It's the transition from winter into summer when you can still ski up high and hike among wildflowers nearer the valleys. It's the best!
So where can you hike during early spring near the greater Salt Lake area? Here are a few suggestions. Read more…
From Slopes to Trails: Spring Hiking and Biking in Utah
In this post I share more springtime adventure! Feeling adventurous? Try climbing or canyoneering. With snowpack still in place, choosing the right trail is key in spring. Look for lower elevation trails until at least late May. Below are some ideas to get you started hiking and biking this spring. Read more…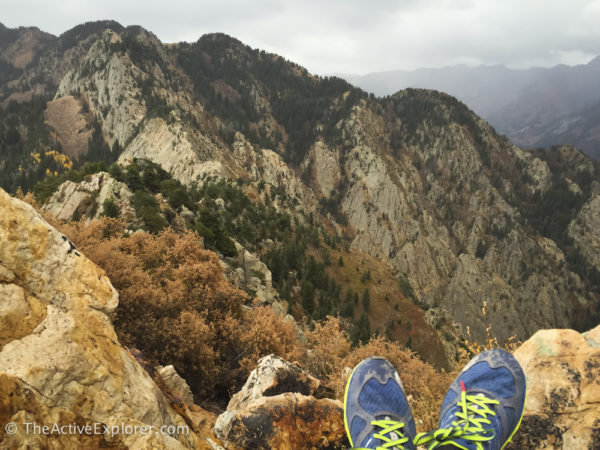 5 Spectacular Fall Hikes Near Salt Lake City
Okay, admittedly during fall I'm preoccupied by dreams of Utah powder, but it's a stunning time for hiking too. There are many lovely trails in the area, but these five Salt Lake City hikes offer an especially pretty display of honey gold, green, and rusty red leaves during autumn. Read more…
Ogden's Top Trails
The combination of mountains, canyons and streams in the Ogden area makes it a first rate adventure destination. From high mountain ski resorts to shady creeks, you won't have to drive far to find a trail. Read more…
Salt Lake's Top Hiking Trails
Salt Lake City's Cottonwood Canyons deliver the goods all winter and summer too. As the days grow shorter, now is the time to lace up your trail running shoes and hiking boots. If you plan a visit to this section of Utah during the summer, there are a few trails you shouldn't miss.
These hikes are organized by Little or Big Cottonwood Canyon, because the ski areas are so close together. Regardless of which canyon you choose to stay in, the canyons are close enough together that all the trails are within minutes. Read more…
Park City's Top Trails
In this specific post our focus turns to the top hiking and mountain biking loops in Park City. We favor loops because they don't require shuttling or backtracking and you're rewarded with a new view in both directions. Read more…

6 Killer Hiking Trails Near Brian Head and Eagle Point
If you think ski season is the only reason to visit Brian Head and Eagle Point, you're missing out. Thanks to their high elevation, the mornings are cool and crisp, giving way to t-shirt temps during the day (highs in the 70s), a perfect base for your adventures.
Located within an easy drive of Zion and Brice National Parks, it would be tempting to beeline it straight there, but there are gorgeous trails much closer. Here are a few to add to your list. Read more…
Hiking With Dogs in Utah
Hiking Utah's diverse landscapes is rewarding in itself, but bringing your dog along makes it even more enjoyable. I hike with my pup often and she's both my companion and cheerleader. Relaxing on the summit of a steep climb, we plop down together for a well-earned snack and water. It's a bond I cherish. Read more…
Easy [yet beautiful] Hikes Near Salt Lake City
Whether you're short on time, or simply want to enjoy nature without a major workout, these hikes deliver big rewards for little effort. This also makes them perfect for visitors arriving from sea level who need to acclimate to our elevation. Read more…
I hope you found inspiration in these lists of Utah hiking trails. I'll add more lists over time, so use that bookmark button! To read more of my Ski Utah posts, visit my author page and be sure to subscribe to their magazine where you'll find even more of my writing their upcoming issue.