My first summer in Salt Lake City has been a joy, wildflowers of all colors, shapes and sizes are already lining trails throughout the high Wasatch Range and will soon reach their peak. I just found out that coinciding with nature's show is the 2013 Wasatch Wildflower Festival taking place July 26, 27 and 28th.
"The Wasatch Wildflower Festival is a collaboration among Cottonwood Canyons Foundation, Snowbird Ski and Summer Resort, Alta Community Enrichment, Alta Ski Area, Brighton Resort, Solitude Mountain Resort, U.S. Forest Service and Salt Lake City Watershed," explains organizers. "The wildflowers are in full bloom, turning the mountain into a sea of vibrant colors," said Dave Fields, Snowbird's Vice President of Resort Operations. "The Wasatch Wildflower Festival is a wonderful opportunity to learn about Utah's unique ecology from local naturalists."
Activities for all ages and abilities are offered at a different resort each day of the festival. The full 2013 schedule may be found on the Wasatch Wildflower Festival Website.  For example, Snowbird Ski and Summer Resort offers hikes on July 28th, some of which utilize their Aerial Tram for a mere $5 donation to the Cottonwood Canyons Foundation.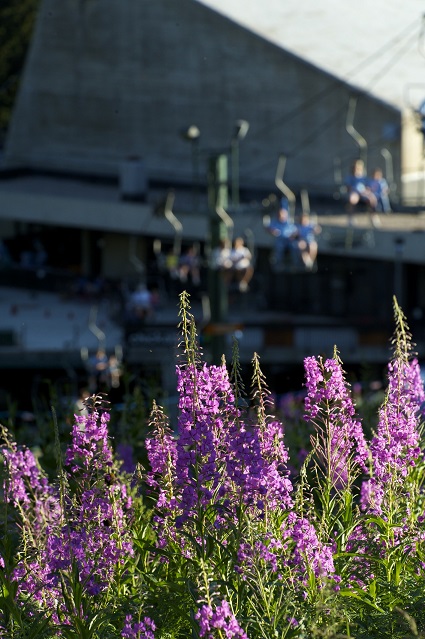 Here are a few of the highlights from their website:
"Most hikes take place at a gentle pace to accommodate wildflower viewing and discussion, but some are long in length or duration. Difficulty ratings of 'beginner, intermediate, or advanced' are based on trail difficulty or length, not level of wildflower knowledge.

"Footing can be loose in many places. All hikes are at high elevation. Please plan to bring water, snacks, wear sturdy shoes, layers, sunscreen, a hat, and any other items to ensure your own comfort and needs."
So pack a camera, wildflower guide and picnic to enjoy nature's artwork on display along the Wasatch Range. See you there!
I'd like to thank Snowbird Ski Resort for the use of the photos in this post!