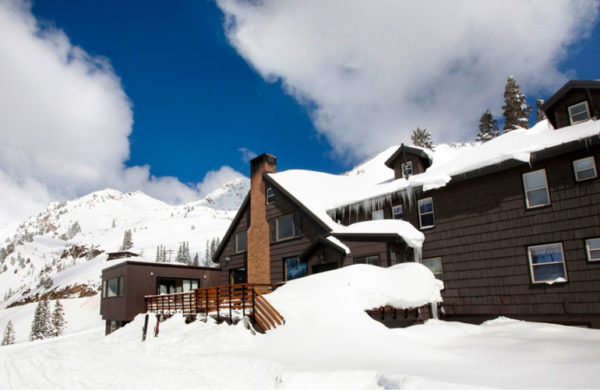 I'm always on the prowl for hangouts with local flavor. Even though Steve and I ski at Alta most of the winter, I had yet to visit a single business other than the on mountain cafes. Finally a few folks got wise to my single-minded visits (powder skiing) and invited me to spend the night. Of course I accepted, but I wanted to take advantage of the opportunity to write an insider's style profile while I was there.
I was under no obligation to do so, but I was thrilled with my visit and wanted to share it with you. My goal is to share information that will help you decide if the lodge is a good fit. For example, I like a casual property, which this is. If you are looking for high-brow fancy digs, please go somewhere else. This lodge is fun and laid back and I hope to attract people who I can have fun with when I visit (see my motive?)
What to Expect at the Alta Lodge
Situated at the base of Alta Ski area is a classic hotel and local institution, the Alta Lodge. Many guests have visited the Lodge annually for a decade or more. The most common comments, "it feels like home" and "the staff is like family."
Steve and I visited for an early Valentine's Day "staycation." It was perfect! This is one of the few places where I can say it's as good for couples as it is for families. I can't put my finger on why, perhaps because of the clientele this property attracts. Our fellow guests were friendly and courteous, as were their kids.
We hung out at the Sitzmark before dinner with a lovely couple who offered to share their table since the view was better. They practically insisted, and I'm glad they did, because we enjoyed sunset cocktails in good company. Why am I going on about the people so much? That's really what the Alta Lodge is about, the people who gather there. Once you visit, you'll know what I mean.
What the locals say about Alta Lodge….
"Let's meet at the Sitzmark after the lifts stop spinning."
The Vibe
Originally opened in 1939, the Alta Lodge has a casual vibe and a retro feel, including art deco chairs tucked into convenient spots for lounging. When I say retro, I don't mean old; much of the property is recently remodeled. If you're looking for "high brow" opulence and marble floors, this isn't your resort. However, if you want a relaxing atmosphere, superbly attentive service, and an attention to detail in everything from the rooms to the meals, then you'll feel at home. The guests here love skiing and they come to ski, not be seen. Celebrities have even sought refuge here over the years.
Odd Fact
Lodge employees perform a sunrise ritual called Stabutic to summon or stop snow. Guests may be briefly awakened at first light by something that sounds like a party. Most discount it to a dream, but it's actually lodge employees chanting "snow, snow, snow" (or "sun" if the snow is out of hand) before chugging a drink of bourbon sitting on top of orange juice.
Food
A dining package is available that includes a four course dinner and breakfast. The dinner menu at the lodge is a rotation of selection of fresh and creative dishes, served by attentive and professional, yet unpretentious, staff.
Our meal included roasted tomato and asparagus soup, mixed-greens salad with Champagne vinaigrette, rack of lamb, orange cumin roasted baby carrots, and sugar snap peas.
Finishing off our meal, we challenged our waistlines with ginger crème brulee and almond torte.
Click HERE to view a sample dinner menu. The lodge also serves an a la carte lunch.
Drinks
The Sitzmark is a local's favorite for après-ski or simply to meet up with friends. In 2011 USA Today named the "classic, intimate" Sitzmark one of "10 great places for après-ski nightlife" in North America. When remodeled, great care was taken to keep the original feel. I can say without reservation that they make an exceptional dirty martini. They also carry a full line of local brew, spirits, and wine.
This isn't the place to claim a table and remain aloof. This pit-style bar is for laughter, meeting new people, and sunset watching.
The Rooms
When you step into a room at the Alta Lodge, it feels like you've stepped back in time. Simple décor accented with stylish retro chairs and furniture. Then you notice the luxury bed linins, indulgent Aveda bath products, and thoughtful additions such as boot warmers.
We stayed in the Corner View Room with Fireplace and Balcony. As the name implies, this room has views from two sides. Pulling the drapes back from both picture windows revealed a wide view of the mountains.
Family Scene
Families are welcomed at the Alta Lodge and many return year after year. While dining, I noticed how wonderful the staff was to the kids. They really catered to their needs.
The Kid's Club offers activities, ski lesson shuttle, après-ski, and a special kid's dinner. Additional babysitting arrangements are also available to free parents for some needed couple or alone time. I spoke to one couple who told me bringing their kids to the Alta Lodge had turned into a romantic getaway thanks to all of the fun activities for children (who were so excited for lessons that they showed up at breakfast in pajamas, ski boots, and goggles.)
Features
Alta Lodge is a ski-in/ski-out facility with complimentary ski lockers available on check-in. Tea and treats are served from 3:30-5:00 in the deck room. They also have a ski shop, wireless Internet, yoga classes, saunas, and mountain-view hot tubs. Silly me forgot my swimsuit, so I didn't get to try the hot tub (I suspect I wouldn't be invited back if I dipped au natural…)
Location
The Lodge is located near the base of the Alta Ski Area Collins lift. Ski directly from the lodge to the lift. At the end of the day, take the rope tow back up to the lodge and head directly to tea or the Sitzmark.
Summer at the Lodge
Winter isn't the only time to visit. Alta is famous for it's wildflower displays during summer. The hiking options are excellent, especially the short trek up to Cecret Lake. Rock-climbing and mountain biking are also popular.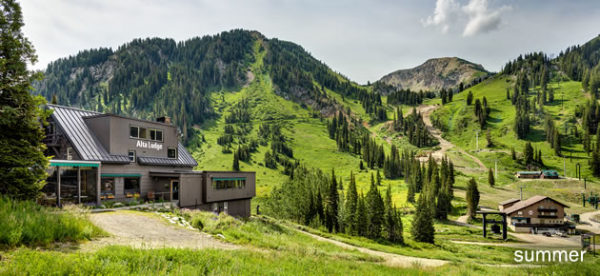 Need to Know
Visit the Alta Lodge website for the official scoop and more information. Also watch the Ski Utah Deals page for specials. Call 800-707-2582 (alta) or send an e-mail to info@altalodge.com The reservations office is open seven days a week from 8 am until 8 pm MST during the winter season, with business hours daily during the rest of the year.
All photos (accept food) courtesy of Alta Lodge.