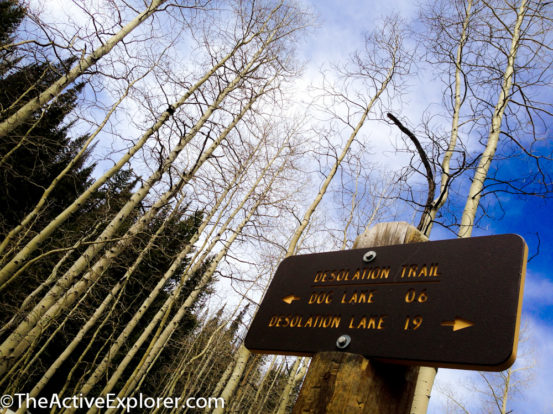 I have come to see the nonsense of trying to describe fine scenery. ~ Nathaniel Hawthorne
Some hikes just aren't long enough.
That was the case when I hiked to Dog Lake in the Wasatch Mountains near Salt Lake City. The hike had nice elevation gain and a little bit of snow to trudge through, but at 4.8 miles round trip, it just wasn't going to wear me out. Approaching a junction where the trail divided, one leading back toward the trailhead at Mill D, and the other toward Desolation Lake, I opted to hike up to the lake, extending my hike by 3.8 miles.
The scenery was beautiful, not only at the lakes, but also along the trail, especially the last 1.8 miles to Desolation Lake.  Altogether, I ended up seeing two lakes, gaining roughly 2,800 feet in elevation, and hiking 8.6 miles. Not a bad day. Here are the details.
I parked at the Mill D North Fork trailhead located about 9 miles up Big Cottonwood Canyon Road on the north (left) side of the road. This is popular area, so expect to have to hunt for a spot if you don't arrive early. On the south side of the road is the trailhead for Doughnut Falls, a hike I have yet to check off my list.
Loading up our packs, I had a friend hiking with me for the day, we headed up the trail. Winding in and out of forest, the trail yielded a couple of pretty views on the way to a stream crossing at 1.2 miles. Just .5 miles further we reached a trail junction, Dog Lake .6 to the left and Desolation 1.9 to the right. We already knew our hike wouldn't be long enough ending at Dog Lake, and discussed the option of adding Desolation to our day.
Heading toward Dog Lake, the trail steepened and lingering snow covered our route (this was the end of May). Arriving at Dog Lake, I grabbed a snack and noticed some stinging pain on my back from a very recent tattoo. "Hmmmm sweaty daypacks don't agree with new ink," I thought to myself. That thought would become a scream before I reached Desolation…
We detoured above the lake to scope-out some nice camping spots. Absolutely a place I want to return to with my backpack in the near future.
From the lake, we returned to the trail junction and began climbing an assertive uphill segment toward Desolation. The reward was a nice level off and beautiful views not far up the trail. One exhausted couple we saw turned back just before this point not realizing they had just about conquered the hardest part. Winding through dramatic aspen stands and meadows, we climbed at a more moderate pace. However, the artwork on my back soon felt more like a tiger mauling and I gave in, passing my pack to my partner, something I almost never do. Wow, I learned my lesson and felt guilty as he trudged with both of our packs.
The trail rose up the side of a "bowl" where snow still covered most of the ground. The lake rests down inside of this bowl. Looking ahead, we realized the remainder of our trek would be through snow pack. Joy. Nearing the lake, a sign protruded out of the snow with a NO SWIMMING image, "No worries," I thought, I'd have to bust through the ice on the lake!
The great thing about continuing a hike through snow is that few people bother. The hugely popular lake was abandoned. I can think of few things I like more than having a lake all to myself. It was quiet and stunningly beautiful. Snow rimmed the lake, which was still covered in a layer of ice. A few high spots had thawed down to dirt and rock, providing places to sit and eat lunch without wet bottoms.
We lounged, ate lunch, snapped a few photos of the frozen lake, and relaxed. That is why I hike. Along with about dozen other reasons, such as…it's way cheaper than therapy.
If you go:

– Pack your 10 Essentials
– Plan to eat lunch at Desolation, the prettier of the two lakes. Pack something nice, you'll earn it.
– I'd rate this hike as moderate to strenuous, mostly because of the length if you visit both lakes. Otherwise I'd rate a hike to either lake individually as moderate due to elevation gain.
– The best map of this area (IMO) is Hiking the Wasatch, published by the Wasatch Mountain Club. It covers Millcreek, Big Cottonwood Canyon, and Little Cottonwood Canyon. You can find it at REI.
– This area is off-limits to dogs because it is a watershed.